ACCOUNTING
Horngren, Charles T.
Financial accounting / Charles T. Horngren, Walter T. Harrison Jr., Suzanne Oliver, Peter Best, David Fraser, Rebecca Tan, Roger Willet. 9th edition. Boston : Pearson,  c2013. HF 5636 H33 2013
Financial Accounting is an engaging resource that focuses on current accounting theory and practice in Australia, within a business context. It emphasises how financial decision-making is based on accurate and complete accounting information and uses case studies to illustrate this in a practical way.
The 7th edition is guided by extensive technical review feedback and incorporating the latest Australian Accounting Standards.  It also provides updated coverage of some of the most significant current issues in accounting such as ethics, information systems and sustainability.

AGRICULTURE
Briones, Roehlano M.
The role of mineral fertilizers in transforming Philippine agriculture / Roehlano M. Briones. Makati City : Philippine Institute for Development Studies, 2014. HC 460 D43 P534 2014 no.14 (FI)
Fertilizer policy in the country has evolved from pervasive interventionism in the 1970s to today`s market-oriented regime. Government has abandoned price policies and subsidies, focusing rather on standard setting, quality regulation, and training. Over the same period domestic demand for fertilizer has continually been increasing, though recently resurgent fertilizer prices have reduced total utilization. Evidence suggests that farmers are under-applying fertilizer, thereby forfeiting efficiency gains at the margin. On the supply side, imports have in the past few decades emerged, as the main source of fertilizer as domestic production has dwindled. With deregulation, numerous private sector players have taken over the distribution of fertilizers; analysis of the supply chain points to low marketing margins. Integration analysis fails to find systematic arbitrage opportunities between the domestic and world markets. Within the domestic market, however, there remain large disparities in prices across regions. Priorities for research and policy are therefore understanding the behavior of farmers in terms of fertilizer application and addressing internal price disparities, perhaps by improved transport infrastructure and logistics.
Higher education in agriculture : trends, prospects, and policy directions / edited by Roehlano M. Briones , Melvin B. Carlos. Makati City, Philippines : Philippine Institute for Development Studies ; [Los Baños, Philippines] : Philippine Council for Agriculture, Aquatic and Natural Resources Research and Development, [2013]. S 535 P6 H54 2013 (FI)
Published by the Philippine Council for Agriculture, Aquatic and Natural Resources Research and Development (PCAARRD) and the Philippine Institute for Development Studies (PIDS), the book highlights results of the PCAARRD-PIDS project on "Policy Research on the State and Future Supply and Demand for Agriculture, Forestry and Natural Resources (AFNR) Graduates in the Philippines.

BALANCE OF TRADE
Pettis, Michael             
The Great rebalancing : trade, conflict, and the perilous road ahead for the world economy / Michael Pettis. New Jersey : Princeton University Press, c2013. HF 1014 P46 2013
China's economic growth is sputtering, the Euro is under threat, and the United States is combating serious trade disadvantages. Another Great Depression? Not quite. Noted economist and China expert Michael Pettis argues instead that we are undergoing a critical rebalancing of the world economies. Debunking popular misconceptions, Pettis shows that severe trade imbalances spurred on the recent financial crisis and were the result of unfortunate policies that distorted the savings and consumption patterns of certain nations. Pettis examines the reasons behind these destabilizing policies, and he predicts severe economic dislocations―a lost decade for China, the breaking of the Euro, and a receding of the U.S. dollar―that will have long-lasting effects. (Continue reading at Amazon.com)
BUSINESSMEN
The Philippines yearbook : generations. 75th edition. Manila : Fookien Times Yearbook Pub., 2012. DS 666 C5 F66 2012 (FI)
Seventy-five years sees a person rising up through childhood to a fully-grown and hopefully matured adult three times over. And so we celebrate this cycle of life with 75 gigantic family portraits representing three generations of life, and more importantly the bedrock of Philippine society – family. -From the Publisher's Note
CALCULUS
Tan, Soo T.      
Applied calculus for the managerial, life, and social sciences : a brief approach / Soo T. Tan. Edition 9. Australia : Brooks/Cole, Cengage Learning, c2012. QA 303.2 T34 2012
Market-leading APPLIED CALCULUS FOR THE MANAGERIAL, LIFE, AND SOCIAL SCIENCES: A BRIEF APPROACH, Ninth Edition, applies math to your world in fun and interesting ways. It delivers just the right balance of teaching, technology, and enlightening real-life examples. And when it comes to study time, the Ninth Edition offers an exciting array of supplements that maximize your efforts and improve your results.
COMMERCIAL POLICY
Smith, Pamela J.          
Global trade policy : questions and answers / Pamela J. Smith. Chichester, West Sussex, UK : Wiley Blackwell, c2014. HF 1411 S45 2014
Using a unique, question-based format, Global Trade Policy offers accessible coverage of the key questions in trade and policy; it charts the changing policy landscape and evolving institutional arrangements for trade policies, examines trade theory, and provides students with an economic framework to better understand the current issues in national and international trade policy.
ECONOMIC INDICATORS
Stengel, Donald N.    
 Working with economic indicators : interpretation and sources / Donald N. Stengel and Priscilla Chaffe-Stengel. First edition. New York, N.Y. : Business Expert Press, c2012. HC 103 S84 2012
As an executive or manager, you hear or read headlines about recent economic data nearly every day. Most important economic statistics are the products of programs designed to collect and analyze data to report summary results at regular intervals. Properly interpreted, these economic indicators provide useful barometers for different aspects of the economy and identify trends that aid better planning decisions. This book will help you identify major categories of economic indicators and provide details about the key indicators in each of the categories. You will learn about the key websites that maintain calendars of upcoming announcements and consensus forecasts of the indicators shortly prior to a formal announcement. Sources of data and reports about economic indicators are provided as well.
Yamarone, Richard   
The traders guide to key economic indicators / Richard Yamarone. Third Edition. Hoboken, N.J. : Wiley, c2012. HC 106.83 Y35 2012
A handy reference to understanding key economic indicators and acting on them. New economic data are reported virtually every trading day. Investors, big and small, have to understand how these reports influence their investments, portfolios, and future sources of income. The third edition of The Trader's Guide to Key Economic Indicators examines the most important economic statistics currently used on Wall Street. In a straightforward and accessible style, it tells you exactly what these reports measure and what they really mean. Filled with in-depth insights and practical advice, this reliable resource sheds some much-needed light on theses numbers and data releases and shows you what to look for and how to react to various economic indicators.
ECONOMETRICS
    Ashley, Richard A.     
Fundamentals of applied econometrics / by Richard Ashley. Hoboken, NJ : Wiley, c2012. HB 139 A84 2012
Fundamentals of Applied Econometrics is designed for an applied, undergraduate econometrics course providing students with an understanding of the most fundamental econometric ideas and tools. The texts serves both the student whose interest is in understanding how one can use sample data to illuminate economic theory and the student who wants and needs a solid intellectual foundation on which to build practical experiential expertise. Starting with a unique Statistics review to start the book, students will learn by doing. Ashley provides students with integrated, hands-on exercises, and the text is supplemented with Active Learning Exercises.
Wooldridge, Jeffrey M.          
Introductory econometrics : a modern approach / Jeffrey M. Wooldridge. FIFTH EDITION. Australia: South-Western Cengage Learning, c2013. HB 139 W66 2013
Unlike traditional books on the subject, INTRODUCTORY ECONOMETRICS' unique presentation demonstrates how econometrics has moved beyond just a set of abstract tools to become a genuinely useful tool for answering questions in business, policy evaluation, and forecasting environments. Organized around the type of data being analyzed, the book uses a systematic approach that only introduces assumptions as they are needed, which makes the material easier to understand and ultimately leads to better econometric practices. Packed with timely, relevant applications, the text emphasizes incorporates close to 100 intriguing data sets in six formats and offers updates that reflect the latest emerging developments in the field.
ECONOMETRIC POLICY
Temin, Peter  
 The Leaderless economy : why the world economic system fell apart and how to fix it / Peter Temin and David Vines. New Jersey : Princeton University Press, c2013. HD 87 T46 2013
The Leaderless Economy reveals why international financial cooperation is the only solution to today's global economic crisis. In this timely and important book, Peter Temin and David Vines argue that our current predicament is a catastrophe rivaled only by the Great Depression. Taking an in-depth look at the history of both, they explain what went wrong and why, and demonstrate why international leadership is needed to restore prosperity and prevent future crises.

ECONOMICS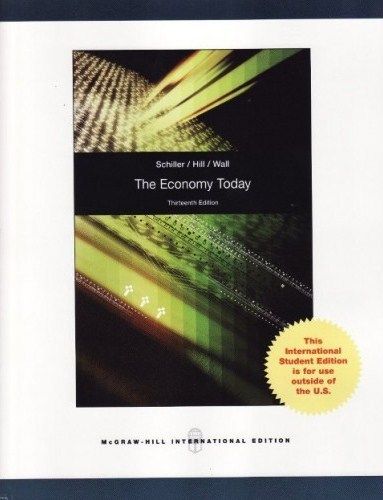 Schiller, Bradley R.    
The Economy today / Bradley R. Schiller with Cynthia Hill and Sherri Wall. Thirteenth edition. New York : McGraw-Hill/Irwin, c2013. HB 171.5 S254 2013
Clear. Current. Connected to Today's Student. Schiller, The Economy Today, 13e, is noted for three great strengths: readability, policy orientation, and pedagogy. The accessible writing style engages students and brings some of the excitement of domestic and global economic news into the classroom. Schiller emphasizes how policymakers must choose between government intervention and market reliance to resolve the core issues of what, how, and for whom to produce. This strategic choice is highlighted throughout the full range of micro, macro, and international issues, and every chapter ends with a policy issue that emphasizes the markets vs. government dilemma. The authors teach economics in a relevant context, filling chapters with thereal facts and applications of economic life. Schiller is also the only principles text that presents all macro theory in the single consistent context of the AS/AD framework.
ENVIRONMENTAL ECONOMICS
Hanley, Nick
Introduction to environmental economics / Nick Hanley, Jason F. Shogren, Stroock, Ben White. Second edition. Oxford : Oxford University Press, c2013. HC 79 E5 H37 2013
Accessible to students with little or no background in the subject, Introduction to Environmental Economics, Second Edition, features an exceptionally clear writing style, a global approach, and wide-ranging theoretical coverage.
ENVIRONMENTAL POLICY
Sustainable economic development : resources, environment, and institutions / edited by Arsenio Balisacan, Ujjayant Chakravorty, Majah-Leah V. Ravago. Amsterdam : Elsevier, 2015 HC 79 E5 S865 2015 (FI)
Sustainable Economic Development: Resources, Environment, and Institutions presents 25 articles that lay the foundations of sustainable development in a way that facilitates effective policy design. The editors mix broad thematic papers with focused micro-papers, balancing theories with policy designs. The book begins with two sections on sustainable development principles and practice and on specific settings where sustainable development is practiced. Two more sections illuminate institutions, governance, and political economy. Additional sections cover sustainable development and agriculture, and risk and economic security, including disaster management. This rich source of information should appeal to any institution involved in development work, and to development practitioners grappling with an array of difficult on-the-ground developmental challenges.

FERTILITY
Winter, Jay M.
The global spread of fertility decline : population, fear, and uncertainty / Jay Winter & Michael Teitelbaum. New Haven : Yale University Press, c2013. HB 901 W56 2013
The world's population has grown by five billion people over the past century, an astounding 300 percent increase. Yet it is actually the decline in family size and population growth that is the issue attracting greatest concern in many countries. This eye-opening book looks at demographic trends in Europe, North America, and Asia—areas that now have low fertility rates—and argues that there is an essential yet often neglected political dimension to a full assessment of these trends. Political decisions that promote or discourage marriage and childbearing, facilitate or discourage contraception and abortion, and stimulate or restrain immigration all have played significant roles in recent trends.

FINANCE
Anderson, John E.
Policy applications and principles of public finance / John E. Anderson. Second edition. Australia : South-Western Cengage Learning , c2012. HJ 141 A63 2012
Emphasizing policymaking and policy analysis, "Policy Applications and Principles of Public Finance, 2/e, International Edition" uses a variety of applications to deliver modern treatment of everything from overviews and definitions for undergraduates, to mathematical derivations of advanced topics for advanced and graduate-level courses. The text evenly addresses local, state, and federal issues, and shows students how to use fiscal federalism as a framework for analysis. Anderson also demonstrates the effects of international concerns on U.S. public policy, lacing the text with topical discussions on entities and issues that greatly affect the entire world, such as the IMF, World Bank, and Kyoto Protocol.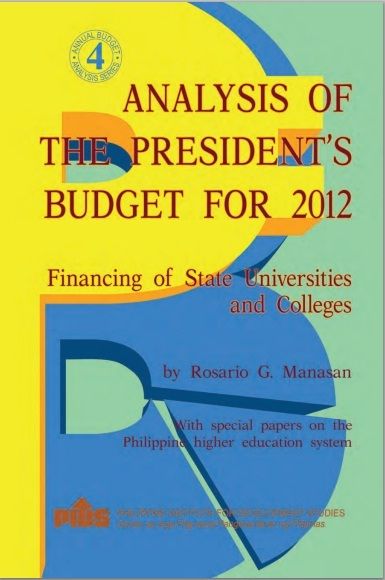 Manasan, Rosario G.
Analysis of the President's budget for 2012: financing of state universities and colleges / Rosario G. Manasan. Makati City: Philippine Institute for Development Studies, c2013. LB 2342.2 P6 M36 2013 (FI)
The purpose of this paper is to assess the President's Budget (PB) for 2012. The assessment is composed of four parts: (i) an evaluation of the overall fiscal picture as projected in the PB; (ii) an examination of its revenue program; (iii) an appraisal of the expenditure program; and (iv) an analysis of the financing program. The national government's fiscal position in any given year (by showing whether the government has a surplus or a deficit) provides shorthand information on the fiscal health of the nation. Given this perspective, Section 2 evaluates the likelihood that the estimate of the fiscal deficit that is targeted in the PB will be met. At the same time, it also assesses if the projected fiscal position will lead to greater fiscal instability. Section 3 assesses the Aquino (II) administration's expenditure priorities relative to its policy pronouncements and the overarching imperative for inclusive growth. On the other hand, Section 4 provides an analysis of the present administration's revenue program in support of the 2012 PB.

INDUSTRIES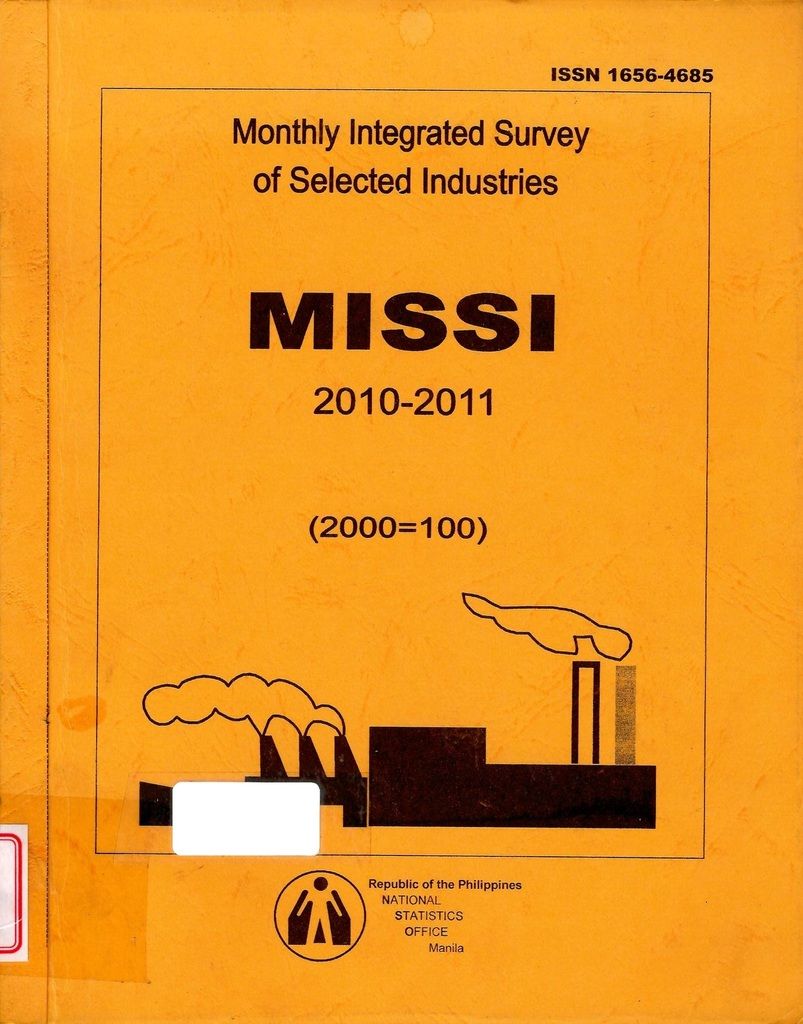 Monthly Integrated Survey of Selected Industries (MISSI) 2010-2011. Manila : National Statistics Office, 2012. HD 9736 P6 M65 2010-2011 (FI)
Discusses the results of the Monthly Integrated Survey of Selected Industries (MISSI), a special study conducted by the NSO to provide flash indicators on the performance of growth-oriented industries. Majority of the establishments covered are located in Metro Manila, engaged principally in manufacturing, and belong the country's top 500 corporations. It presents indices on production, employment, and compensation in simple tabular forms.

Monthly Integrated Survey of Selected Industries (MISSI) 2011-2012. Manila : National Statistics Office, 2013. HD 9736 P6 M65 2011-2012 (FI)
Discusses the results of the Monthly Integrated Survey of Selected Industries (MISSI), a special study conducted by the NSO to provide flash indicators on the performance of growth-oriented industries. Majority of the establishments covered are located in Metro Manila, engaged principally in manufacturing, and belong the country's top 500 corporations. It presents indices on production, employment, and compensation in simple tabular forms.

INFLATION
Inflation report / Bangko Sentral ng Pilipinas. Manila : Bangko Sentral ng Pilipinas, 2004-. HG 1265 B35 2nd qtr 2012 (FI)
The Inflation Report is published quarterly as part of the BSP's transparency mechanism under inflation targeting and to convey to the public the overall thinking and analysis behind the BSP's decision on monetary policy.

Inflation report / Bangko Sentral ng Pilipinas. Manila : Bangko Sentral ng Pilipinas, 2004-. HG 1265 B35 2nd qtr 2014 (FI)
The Inflation Report is published quarterly as part of the BSP's transparency mechanism under inflation targeting and to convey to the public the overall thinking and analysis behind the BSP's decision on monetary policy.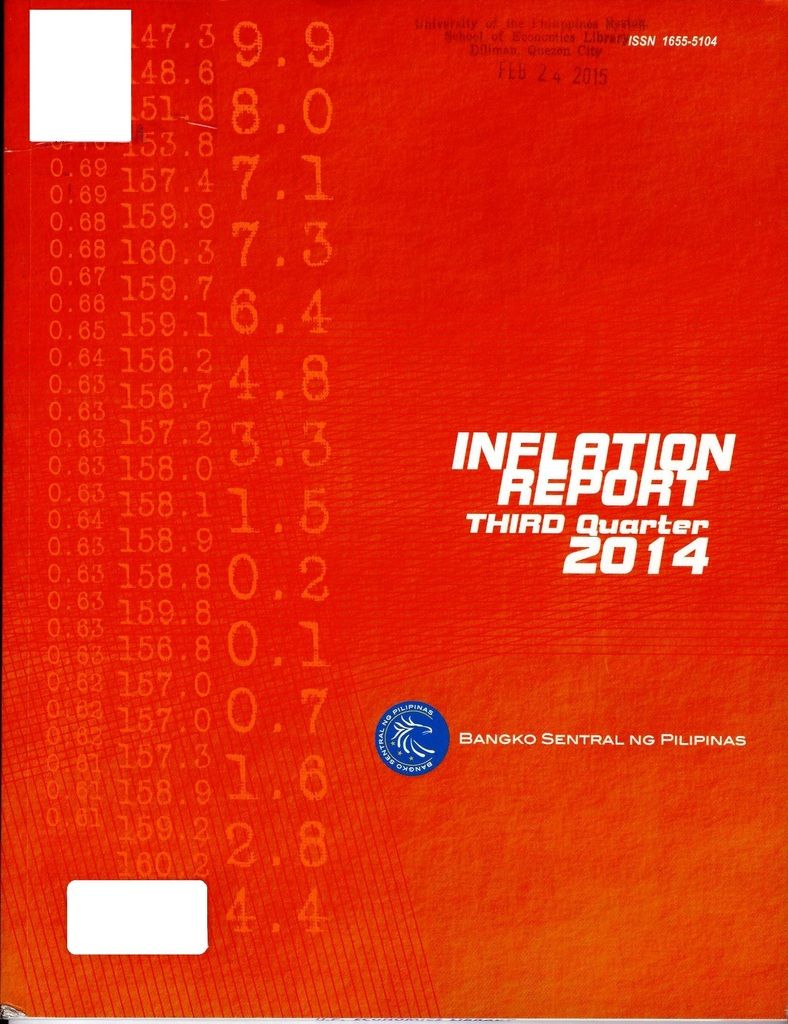 Inflation report / Bangko Sentral ng Pilipinas. Manila : Bangko Sentral ng Pilipinas, 2004-. HG 1265 B35 3rd qtr 2012 (FI)
The Inflation Report is published quarterly as part of the BSP's transparency mechanism under inflation targeting and to convey to the public the overall thinking and analysis behind the BSP's decision on monetary policy.

INTERNATIONAL ECONOMIC RELATION

Marrewijk, Charles van
International economics : theory, application, and policy / Charles Van Marrewijk ; study guide questions in cooperation with Daniel Ottens, Stephan Schueller. Second edition. Oxford, UK ; Oxford University Press, c2012. HF 1359 M367 2012
Covering both trade and international finance, International Economics, Second Edition, provides a thoroughly up to date and comprehensive treatment of each area. This innovative text features a flexible organization–including separate sections on international trade and international money–and can be used in a variety of courses. Author Charles Van Marrewijk illustrates theory and policy with empirical evidence and numerous case studies. He also provides brief accounts of economists who have contributed to the field and technical notes wherever they are needed.

INTERNATIONAL TRADE
Cleaver, Tony
 Understanding the world economy / Tony Cleaver. Fourth edition. New York : Routledge, c2013. HF 1379 C57 2013
This fourth edition of Understanding the World Economy will continue to provide the reader with the clearest guide available to the global economic scene. Since the last edition was published in 2006, enormous changes have taken place. The world economy has been in upheaval with the biggest financial crash and ensuing recession since the 1930s; with a global re-ordering of economic power relations; with widespread demonstrations by those left behind; with divergent views about where Europe is heading; with a growing scarcity of essential resources; with increasing international terrorism and with increasing concerns of environmental degradation and climate change. To embrace such urgent issues, this text is an almost entirely rewritten version of earlier editions. Tony Cleaver takes a long look at the evolution of market systems and how they have liberated peoples on one side of the globe and yet driven others into debt, depression and despair. He analyses causes and consequences, and discusses (and sometimes dismisses) economic theories.

INVESTMENT
Pinto, Pablo M.            
Partisan investment in the global economy : why the left loves foreign direct investment and FDI loves the left / Pablo M. Pinto.  New York, N.Y. : Cambridge University Press, 2013. HG 4538 P565 2013
This book develops a partisan theory of foreign direct investment (FDI) to explain cross-country and temporal variance in the regulation of foreign investment and in the amount of FDI inflows that countries receive. The author explores the host governments' partisan alignment, whether pro-labor or pro-capital, to determine if they will be more open or closed to FDI. To reach this determination, the book derives the conditions under which investment flows should be expected to affect the relative demand for the services supplied by economic actors in host countries. Based on these expected distributive consequences, a political economy model of the regulation of FDI and changes in investment performance within countries and over time is developed. The theory is tested using both cross-national statistical analysis and two case studies exploring the development of the foreign investment regimes and their performance over the past century in Argentina and South Korea.

LABOR SUPPLY
2014 Yearbook of labor statistics. Manila : Philippine Statistics Authority, 2014. HD 8711 A543 2014 (FI)
The 2014 Yearbook of Labor Statistics (YLS), the 33rd edition of this publication of comprehensive compilation of statistical information, contains 22 chapters and includes data up to 2013.  Specifically, data included are the Philippines' total population, economically active population or labor force, employment, underemployment, unemployment, working children, youth employment, hours of work, compensation and wages, labor productivity and consumer price index, family income and expenditures, functional literacy and social security. Also presented are the administrative-based/operational statistics of the Department of Labor and Employment (DOLE), particularly on local and overseas job facilitation, workers protection and welfare, labor standards and labor relations.

MANAGERIAL ECONOMICS
Png, Ivan         
Managerial economics / Ivan Png. Fourth edition. Abingdon, Oxon [England] ;  Routledge, c2012. HD 30.22 P64 2012
Now in its fourth edition, Ivan Png's Managerial Economics has been extensively revised with a completely new introductory chapter emphasizing decision-making and behavioral biases, intensive application to current issues including the sub-prime financial crisis and global competition, as well as streamlined presentation focusing on the economics that managers need to know. As always, the text presents the key concepts of micro-economics intuitively, without requiring any sophisticated mathematics. Throughout, it emphasizes actual management application, and links to other functions including marketing and finance. The new fourth edition is updated with fresh up-to-date discussion questions from all over the world and enhanced with detailed instructor supplements. It is an ideal text for any course focusing on the practical application of micro-economic principles to management.

MATHEMATICS
Harshbarger, Ronald J.
Mathematical applications for the management, life, and social sciences / Ronald J. Harshbarger, James J. Reynolds, Clarion.   10 edition. Australia : Brooks/Cole, Cengage Learning, c2013. QA 37.3 H37 2013
Mathematical Applications For The Management, Life, And Social Sciences, 10/e, International Edition is intended for a two-semester applied calculus or combined finite mathematics and applied calculus course. The book's concept-based approach, multiple presentation methods, and interesting and relevant applications keep students who typically take the course-business, economics, life sciences, and social sciences majors-engaged in the material. This edition broadens the book's real-life context by adding a number of environmental science and economic applications. The use of modeling has been expanded, with modeling problems now clearly labeled in the examples. Also included in the Tenth Edition is a brief review of algebra to prepare students with different backgrounds for the material in later chapters.

MEDICAL ECONOMICS
  Henderson, James W.
Health economics and policy / James W. Henderson. Fifth edition.  Australia : South-Western, Cengage Learning, c2012. RA 410 H46 2012
The 5th Edition of "Health Economics and Policy (with Economic Application), International Edition" thoroughly demonstrates how microeconomic principles apply to health care delivery and its policies. The text explores the changing nature of health care, as well as the social and political sides of issues, and teaches students to analyze public policy from an economic perspective. Written for non-economics majors, "Health Economics and Policy (with Economic Application), 5e, International Edition" delivers significant economic content and is also appropriate for economics majors.

MICROECONOMICS
Lieberman, Marc        
Principles and applications of microeconomics / Marc Lieberman, Robert E. Hall. 6th International edition. Australia : South-Western, Cengage Learning, c2013. HB 172 L54 2013
Because issues of policy and real applications are critical to the principles of economics course, acclaimed economists Hall and Lieberman have made the fourth edition of MICROECONOMICS: PRINCIPLES AND APPLICATIONS as current as today's headlines, giving students a real-world, up-to-the-minute overview that presents economics as a unified discipline. Taking a no-nonsense, policy approach to economic theory and application, this comprehensive text is very accessible, equipping readers with a solid foundation in economics that they can build upon wherever their career paths may lead. A wealth of interactive online exercises, graphing applications, and research opportunities give students hands-on experience working with current economic issues. Hall and Lieberman's careful focus on core theoretical ideas and systematic application of theoretical tools to timely, practical questions conveys the message that economics is an integrated, powerful body of knowledge that can effectively address domestic and global issues.
PHILIPPINES–ECONOMIC CONDITIONS

The Report : the Philippines 2012 / Oxford Business Group. London : Oxford Business Group, c2012. HC 451 A1 O94 2012 (FI)
Although economic headwinds have thrown international markets off course, the Philippine economy has managed to stay on a relatively even keel. Local authorities note that while GDP growth slowed in 2011 relative to 2010 due to weak external demand and government underspending, household consumption has continued to see strong growth due to a burgeoning middle class and robust overseas remittance flows.
STUDENT FINANCIAL AID ADMINISTRATION
Catibog, Victoria
Funds flow and financial control analysis of the Student Financial Assistance Programs (StuFAP) / Victoria Catibog. Makati City : Philippine Institute for Development Studies, 2014. HC 460 D43 P534 2014 no.13 (FI)
This study presents the scholarship, grant-in-aid and student loans (SGIAL) funds flow and its financial flow analysis and assesses the weaknesses and strengths of the SGIAL financial process. Some findings from the study show that the Department of Science and Technology (DOST) and the Commission on Higher Education (CHED) accounts and reports on SGIAL funds received from the General Appropriations Act (GAA) following standard government accounting rules and regulations deters scrupulous persons from misuse and misappropriation of the funds. However, administering scholarship funds have certain nuances that do not fit well with national procedures in the release of funds. For one, the fiscal year and the academic year do not jibe. DOST and CHED have to carefully consider this in their planning for the use of budgeted SGIAL funds from the GAA. The study recommends that there should be a creation of a scholarship trust fund to which releases from the GAA will be transferred. This will solve the problems caused by a non-synchronized fiscal and academic year. It will also insure the availability of actual cash to pay entitlements of scholars on time. This also enables the agency implementing the scholarship program to have a better basis for planning and budgeting the funds allocated for the purpose that is released to it.

TEXTILE INDUSTRY
Kunz, Grace I.
Going global : the textiles and apparel industry / Grace I. Kunz, Myrna B. Garner. Second edition. New York : Fairchild Books, c2011. HD 9850.5 K86 2011
Going Global: The Textile and Apparel Industry, 2nd Edition, examines the global sourcing of textiles and apparel in the context of corporate responsibility for the sustainability of supply chains. Tackling complex political, economic, and labor issues, the text explores how, what, when, where, and under what circumstances merchandise is developed, produced, acquired, and consumed on a global basis.

URBAN ECONOMICS
Economic strategies for mature industrial economies/ Peter Karl Kresl. Cheltenham, UK : Edward Elgar, c2010. HD 87 E3633 2010
The global economy has transformed during the last few decades. Though the changes have benefited some, many mature industrial economies (MIEs) have not been treated well by the changes they have seen and have been forced to adapt to dramatically changed circumstances. In this collection of original papers, economists and geographers from Asia, North America and Europe examine the policy initiatives that have succeeded in their countries. The analyses address issues such as local, state and federal governance, aging populations, inter-city cooperation and loss of dominant firms. Additionally, the authors discuss policy issues such as industrial tourism, the roles of education, knowledge and culture, and repositioning a regions place in the global economy. The volume also includes an empirical estimation of the competitiveness of major cities. The contributors to this book hold that it is possible for the overwhelming majority of MIEs to shape their policy in such a way that many of the objectives that will yield the most prosperity will fall within their reach. In that spirit, this book offers the elements for generating economic strategies for mature industrial economies. Suggesting frontier polices to help cities chart a course for future developmental success, this stimulating work is ideally suited to economists, policymakers, city planners, students and scholars of business, economics, urban studies and public policy, and all those concerned with creating equity for the cities of tomorrow. Squires, Graham         
Urban and environmental economics : an introduction / Graham Squires. Abingdon, Oxon : Routledge, c2013. HT 321 S68 2013
Urban and Environmental Economics The importance of the built environment to environmental protection is well established, with strict environmental regulations now a feature of the working lives of planners, contractors, building designers, and quantity surveyors alike. Those new to, or preparing to join this industry must have an understanding of how their environmental responsibilities relate to their professional responsibilities in economic terms. Designed as an introductory textbook, Urban and Environmental Economics: An Introduction provides the background information from these disciplines to understand crucial tools and economic techniques.

URBAN POLICY
Urban issues : selections from CQ Researcher. Sixth edition. Los Angeles : CQ Press, c2013. HT 123 U729 2013
Is extreme poverty growing? Is business-style competition a good model for improving schools? Are downtowns making a sustainable comeback? These are just some of the provocative questions your students will find in the new edition of Urban Issues. For current coverage of urban politics, your students will appreciate the balanced and unbiased reporting of CQ Researcher. Urban Issues gives them a window into how policy is made and implemented and is sure to spark classroom debate. Each chapter examines the key players, stakes, and lessons for the future, while covering the range of fact, analysis, and opinion surrounding each issue.