AGRICULTURE 
Barkley, Andrew
Principles of agricultural economics / Andrew Barkley and Paul W. Barkley. Oxon [England] : Routledge, c2013. HD 1761 B345 2013
This book showcases the power of economic principles to explain and predict issues and current events in the food, agricultural, agribusiness, international trade, natural resources and other sectors.

BANKS AND BANKING

Financial sector reform in transition economies : implications for North Korea / edited by Byung-Yeon Kim & Cheng Hoon Lim. Seoul, South Korea : Seoul National University  Press, c2009. HG 3330.6 A6 F56 2009

CENTRAL ASIA

Central Asia and the Caucasus: at the crossroads of Eurasia in the 21st century / edited by Werner Hermann, Johannes F. Linn. New Delhi : SAGE Publications, 2011.HF 1586.42 C46 2011
The work provides a clear and yet a thought provoking understanding of the dynamics and challenges of Central Asia and the Caucasus. It aims to raise awareness of the important opportunities and risks which the region faces and represents. However, this book is not only about Central Asia and the Caucasus and its role in Eurasia, it is also written for readers in that region. The book consists of papers that originally served as background documents for a conference of experts and leaders from the region. The goal of the conference was to find practical ways to enhance sustainable growth and welfare in Central Asia.

COMPARATIVE ECONOMICS

Gregory, Paul R.          
The Global economy and its economic systems / Paul R. Gregory, Robert C. Stuart. Australia : South-Western Cengage Learning, c2014. HB 90 G735 2014
Since the first edition of this book in 1975 (previously titled Comparing Economic Systems in the Twenty-First Century), this market-leading title has examined different economies in theory and practice. This edition represents a complete revision and a significant expansion of the previous (2004) edition. The authors have completely rewritten and reorganized the 21 chapters of the previous edition and included a new chapter (Chapter 12, The Europen Model).

DEBTS

Lavdas, Kaostas A.    
Stateness and sovereign debt : Greece in the European conundrum / Kostas A. Lavdas, Spyridon N. Litsas, and Dimitrios V. Skiadas. Lanham, Maryland : Lexington Books, c2013. HC 295 L38 2013
This book examines the present crisis of Greece's political economy as a crisis of stateness, tackling the domestic as well as the international dimensions. It represents the first attempt by Greek academics to put forward a theoretically-informed, interdisciplinary analysis of Greece's fiscal, economic, and political crisis. The approach aims to fill a major gap, combining insights from comparative politics, political economy, international relations theory, and legal-institutional analysis, in a theoretically informed account of the Greek case in comparative and theoretical perspective. The book tackles the issue of the possible next steps for the EU under the influence of the crisis of the eurozone, including a thorough analysis of national sovereignty seen from a domestic and an international point of view, focusing on critical processes in the international arena such as interdependency and dependency, while a legal-institutional chapter demonstrates the erratic way in which Greek government dealt with sovereign debt.
ECONOMIC DEVELOPMENT
Cypher, James M.       
The process of economic development / James Cypher, James L. Dietz. Fourth edition.  Abingdon, Oxon [England]; Routledge, c2013. HD 82 C86 2013
The fourth edition of The Process of Economic Development offers a thorough and up-to-date treatment of development economics. This landmark text will continue to be an invaluable resource for students, teachers and researchers in the fields of development economics and development studies.
ECONOMICS
Baumol, William J.     
Economics : principles and policy / William J. Baumol, Alan S. Blinder. 12th edition. Australia : South-Western, Cengage Learning, c2012. HB 171.5 B33 2012
ECONOMICS: PRINCIPLES AND POLICY, Twelfth Edition, teaches the principles of economics, including current economic situations, providing an essential resource for faculty and students who want a solid introduction that calls on policy-based information for examples and applications.
ENVIRONMENTAL ECONOMICS

Field, Barry C.               
Environmental economics : an introduction / Barry C. Field, Martha K. Field. Sixth edition. New York, NY : McGraw-Hill, c2013. HC 79 E5 F47 2013
Environmental Economics is an introduction to the basic principles of environmental economics as they have been developed in the past and as they continue to evolve. The examples discussed in this textbook represent only a sample of the full range of issues that actually exists. For this reason, the Sixth Edition sticks to the basic ideas and ways that environmental economists have found to make the basic concepts and models more specific and relevant to concrete environmental issues. The basic structure and sequence of chapters are unchanged but contain new and updated material that reflects the new research efforts by environmental economists over the last few years.
FINANCE

Capital market reform in Asia : towards developed and integrated markets in times of  change / edited by Masahiro Kawai, Andrew Sheng. New Delhi ; Thousand Oaks :  SAGE, 2012. HG 5702 C38 2012
Capital Market Reform in Asia is derived from 11 round table conferences on Capital Market Reform in Asia, jointly organized by Asian Development Bank Institute (ADBI) and the Organization for Economic Co-operation and Development (OECD). The volume charts the progress of capital market development in Asia after the 1997 1998 Asian financial crisis, providing insights into capital market reform and the new challenges that have arisen since the global financial crisis of 2007 2009, amidst reforms to the international financial architecture.

Development and public finance : essays in honour of Raja J. Chelliah / edited by D.K. Srivastava, U. Sankar. New Delhi : SAGE India, 2012. HD 75 D476 2012
Development and Public Finance is a commemorative volume on late Dr. Raja J. Chelliah, one of the foremost Public Finance experts of India. It is designed as a compendium of essays on contemporary issues of Public Finance and Development, focusing on the rapidly globalizing Indian economy. Well-known scholars and experts have contributed insightful articles to this collection. Not only is this volume academically rich, it also has an entire section where Dr. Chelliah's peers and colleagues talk about him and how they saw him—the man they variously describe as a great scholar, a brilliant economist, and an indomitable crusader.

Ives, Martin   
 Introduction to governmental and not-for-profit accounting / Martin Ives, Terry K. Patton, Susan R. Patton. Seventh edition. Boston : Pearson, c2013. HF 5681 F84 R39 2013
Covering the essentials of fund accounting, this flexible book introduces the reader to the basic accounting principles at work in both governmental and not-for-profit organizations.
INTERNATIONAL ECONOMIC RELATIONS

Appleyard, Dennis R.
International economics / Dennis R. Appleyard, Alfred J. Field, Jr.  Eighth edition. New York, NY : McGraw-Hill/Irwin, c2014. HF 1359 A66 2014
Appleyard and Field's International Economics offers a consistent level of analysis and treatment of the two main subdivisions of international economics-international trade theory and policy and international monetary theory and policy. Comprehensive and clear, International Economics helps students move beyond recognition toward an understanding of current and future international events. New improvements covering the emerging issues in the global economy are designed to help readers both understand and appreciate the growing importance of the global economy in their lives.
LABOR ECONOMICS

Borjas, George J.
Labor economics / George J. Borjas. Sixth edition. New York, NY : McGraw-Hill, c2013. HD 4901 B67 2013
Labor Economics, Sixth Edition by George J. Borjas provides a modern introduction to labor economics, emphasizing both theory and empirical evidence. The book uses many examples drawn from state-of-the-art studies in labor economics literature. The author introduces, through examples, methodological techniques that are commonly used in labor economics to empirically test various aspects of the theory.
LAND REFORM
    Matondi, Prosper B. 
Zimbabwe's fast track land reform. / Prosper B. Matondi. London, UK ; New York, NY : Zed Books, c2012. HD 1333 Z55 M38 2012
Zimbabwe's Fast Track Land Reform provides new, in-depth and much-needed empirical research on Zimbabwe's highly contested land reform programme. It examines how processes such as land acquisition, allocation, transitional production outcomes, social life, gender and tenure have influenced and been influenced by the forces driving the programme. It also explores the ways in which the land reform has created a new agrarian structure based on small- to medium-scale farmers. In attempting to resolve the problematic issues the reforms have raised, the author argues that it is this new agrarian formation which provides the greatest scope for improving Zimbabwe's agriculture and development. Based on a broader geographical scope than any previous study, this is a landmark work on a subject of considerable controversy.
LAW AND ECONOMICS

Poverty and the international economic legal system : duties to the world's poor / [edited by] Krista Nadakavukaren Schefer.New York, NY : Cambridge University Press, 2013. K 487 E3 P68 2013
With a focus on how trade, foreign investment, commercial arbitration and financial regulation rules affect impoverished individuals, Poverty and the International Economic Legal System examines the relationship between the legal rules of the international economic law system and states' obligations to reduce poverty. The contributors include leading practitioners, practice-oriented scholars and legal theorists, who discuss the human aspects of global economic activity without resorting to either overly dogmatic human rights approaches or technocratic economic views. The essays extend beyond development discussions by encouraging further efforts to study, improve and develop legal mechanisms for the benefit of the world's poor and challenging traditionally de-personified legal areas to engage with their real-world impacts.
MACROECONOMICS
Charpe, Matthieu       
Financial assets, debt, and liquidity crises : a Keynesian approach / Matthieu Charp, Carl Chiarella, Pater Flaschel and Willi Semmler. New York, NY : Cambridge   University Press, 2011. HB 172.5 C43 2011
The macroeconomic development of most major industrial economies is characterised by boom-bust cycles. Normally such boom-bust cycles are driven by specific sectors of the economy. In the financial meltdown of the years 2007-2009 it was the credit sector and the real-estate sector that were the main driving forces. This book takes on the challenge of interpreting and modelling this meltdown. In doing so it revives the traditional Keynesian approach to the financial-real economy interaction and the business cycle, extending it in several important ways. In particular, it adopts the Keynesian view of a hierarchy of markets and introduces a detailed financial sector into the traditional Keynesian framework. The approach of the book goes beyond the currently dominant paradigm based on the representative agent, market clearing and rational economic agents. Instead it proposes an economy populated with heterogeneous, rationally bounded agents attempting to cope with disequilibria in various markets.


Dornbusch, Rudiger 
Macroeconomics / Dornbusch Rudiger, Stanley Fischer and Richard Startz. Twelfth edition. New York, NY : McGraw-Hill Education, c2014. HB 171.5 D62 2014
Dornbusch, Fischer, and Startz has been a long-standing, leading intermediate macroeconomic theory text since its introduction in 1978. This revision retains most of the text's traditional features, including a middle-of-the-road approach and very current research, while updating and simplifying the exposition. A balanced approach explains both the potential and limitations of economic policy. Macroeconomics employs a model-based approach to macroeconomic analysis and demonstrates how various models are connected with the goal of giving students the capacity to analyze current economic issues in the context of an economic frame of reference. The only pre-requisite continues to be principles of economics.
Mankiw, N. Gregory
Principles of macroeconomics / N. Gregory Mankiw. Seventh Edition. Australia : Cengage Learning, [2015]. HB 172.5 M354 2015
With its clear and engaging writing style, PRINCIPLES OF MACROECONOMICS, Seventh Edition, continues to be one of the most popular books on economics available today. Mankiw emphasizes material that you are likely to find interesting about the economy (particularly if you are studying economics for the first time), including real-life scenarios, useful facts, and the many ways economic concepts play a role in the decisions you make every day.
MATHEMATICAL ECONOMICS
Alhabeeb, M.J.
Managerial economics : a mathematical approach / M.J. Alhabeeb and L. Joe Moffit. Hoboken, New Jersey : John Wiley & Sons, Inc., c2013. HD 30.22 A54 2013
Uncertainty is present in every managerial decision, and Managerial Economics: A Mathematical Approach effectively demonstrates the application of higher-level statistical tools to inform and clarify the logic of problem solving in a managerial environment. While illuminating managerial decision-making from all possible angles, this book equips readers with the tools and skills needed to recognize and address uncertainty. The book also explores individual, firm, and market-level decisions; discusses all possible risks and uncertainties encountered in the decision-making process; and prepares readers to deal with both epistemic and aleatory uncertainty in managerial decisions.
MEDICAL ECONOMICS
McPake, Barbara        
Health economics : an international perspective / Barbara McPake, Charles Normand, and Samantha Smith. Third edition. London ; New York : Routledge, c2013. RA 410 M337 2013
This third edition of Barbara McPake and Charles Normand's textbook confirms it as providing the only properly international treatment of health economics on the market. A key tenet of the book is its analysis of comparative health systems across borders, and the text has been updated and revised to take account of changes in a host of countries. Barack Obama's reforms in the United States are considered alongside the provision of healthcare in China, providing a unique overview of these different approaches. The introduction of performance related payment in various forms is appraised, with the experience of developing countries such as Cambodia, Rwanda and Uganda important in this regard. An overview of the range of mathematical techniques available to perform economic evaluation in healthcare is also introduced, although the text avoids becoming too technical. In all, the text builds on the success of the first edition and provides the perfect introduction to the fast changing world of health economics.
MICROECONOMIC
Elsner, Wolfram          
Microeconomics of Interactive Economies : Evolutionary, Institutional, and     Complexity Perspectives : a 'Non-Toxic' Intermediate Textbook / Wolfram Elsner.  UK : Edward Elgar, c2012. HB 172 E57 2012
This thorough reconstruction of microeconomics 'post-2008' provides economic students with a new way of real-world understanding and strategic qualification that will be better appreciated by their future employers and any professional practice. It will prove essential for economic students and other social science programs at a graduate level.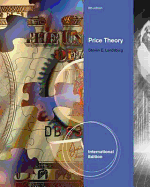 Landsburg, Steven E.               
Price theory / Steven E. Landsburg. 8th ed. Mason, Ohio : South-Western Cengage Learning, c2011. HB 172 L35 2011
Delivers a text that can both challenge and intrigue students as it equips them with the tools and skills to apply economic principles to the world around them. This book offers coverage of traditional topics of intermediate price theory as well as issues, such as the economics of information.

Mankiw, N. Gregory 
Principles of microeconomics / N. Gregory Mankiw. Seventh edition. Australia : Cengage Learning, 2015. HB 172 M354 2015
With its clear and engaging writing style, PRINCIPLES OF MICROECONOMICS, Seventh Edition, continues to be one of the most popular books on economics available today. Mankiw emphasizes material that you are likely to find interesting about the economy (particularly if you are studying economics for the first time), including real-life scenarios, useful facts, and the many ways economic concepts play a role in the decisions you make every day.

Sharp, Ansel Miree    
Economics of social issues / Ansel M. Sharp, Charles A. Register, Paul W. Grimes. Twentieth edition. New York : McGraw-Hill, c2013. HB 171.5 L451 2013
Sharp, Register, and Grimes' "Economics of Social Issues" originated the social issues approach to teaching basic economic principles and has garnered a loyal user following for its timely and impartial handling of current social issues that dominate the news. The primary objectives of the book are to create student interest in the study of economics and provide a framework of basic analytical tools useful in the understanding of social issues. This edition provides fresh perspectives on current societal trends and public debates to stimulate classroom discussion and help students learn the important basic principles of economics. Each chapter presents economic concepts then places them within the context of current issues facing society.
Snyder, Christopher
 Microeconomic theory : basic principles and extensions / Walter Nicholson,   Christopher Snyder. Eleventh edition. Australia : South-Western, Cengage Learning, c2012. HB 171.5 N575 2012
MICROECONOMIC THEORY: BASIC PRINCIPLES AND EXTENSIONS, 11th edition, delivers economic models, theoretical tools, real-world applications, and the latest developments in the study of microeconomics. Insightful graphic presentations help visual learners see the connections between the calculus and the algebra/geometry of the same material as it applies to microeconomic theory.
MONETARY ECONOMICS

Smithin, John N.         
Essays in the fundamental theory of monetary economics and macroeconomics / by  John Smithin. Singapore : World Scientific Publishing. Co. Pte. Ltd., c2013. HG 221 S646 2013
This book provides a comprehensive overview, in the form of eight long essays, of the evolution of monetary theory over the three-quarters of century, from the time of Keynes to the present day. The essays are originally based on lecture notes from a graduate course on Advanced Monetary Economics offered at York University, Toronto, written in the style of academic papers. The essays are mathematical in method — but also take a historical perspective, tracing the evolution of monetary thought through the Keynesian model, the monetarist model, new classical model, etc, up to and including the neo-Wickesellian models of the early 21st century. The book will be an essential resource for both graduate and advanced undergraduate students in economics, as well as for individual researchers seeking basic information on the theoretical background of contemporary debates.
NIGERIA–ECONOMIC CONDITIONS

 Okonjo-Iweala, Ngozi              
Reforming the unreformable : lessons from Nigeria / Ngozi Okonjo-Iweala. Cambridge, Mass. : MIT Press, c2012. HC 1055 O56 2012
Corrupt, mismanaged, and seemingly hopeless: that's how the international community viewed Nigeria in the early 2000s. Then Nigeria implemented a sweeping set of economic and political changes and began to reform the unreformable. This book tells the story of how a dedicated and politically committed team of reformers set out to fix a series of broken institutions, and in the process repositioned Nigeria's economy in ways that helped create a more diversified springboard for steadier long-term growth.The author, Harvard- and MIT-trained economist Ngozi Okonjo-Iweala, currently Nigeria's Coordinating Minister for the Economy and Minister of Finance and formerly Managing Director of the World Bank, played a crucial part in her country's economic reforms. In Nigeria's Debt Management Office, and later as Minister of Finance, she spearheaded negotiations with the Paris Club that led to the wiping out of $30 billion of Nigeria's external debt, 60 percent of which was outright cancellation.Reforming the Unreformable offers an insider's view of those debt negotiations; it also details the fight against corruption and the struggle to implement a series of macroeconomic and structural reforms. This story of development economics in action, written from the front lines of economic reform in Africa, offers a unique perspective on the complex and uncertain global economic environment.
NON-GOVERNMENTAL ORGANIZATIONS
NGOization : complicity, contradictions and prospects / edited by Aziz Choudry and Dip Kapoor. London, United Kingdom ; New York, N.Y. : Zed Books, 2013. JZ 4841 N455 2013
The growth of non-governmental organizations (NGOs) at local and international levels has attracted considerable interest from policy-makers, development practitioners, academics and activists around the world. But how has this phenomenon impacted on struggles for social and environmental justice? How has it challenged – or reinforced – the forces of capitalism and colonialism? NGOization – the professionalization and institutionalization of social action – has long been a hotly contested issue in grassroots social movements and communities of resistance. NGO-ization pulls together for the first time unique perspectives of social struggles and critically-engaged scholars from wide range of geographical and political contexts, to offer an evidence-based insight into the tensions and challenges of the NGO model while considering the feasibility of alternatives.

SOUTH ASIA
Routledge handbook of South Asian economics / edited by Raghbendra Jha.  Abingdon, Oxon : Routledge, c2011. HC 430.6 R68 2011
The Routledge Handbook of South Asian Economics addresses the recent economic transformation in South Asia. Leading experts in the field look at the major economic achievements and challenges for the region and examine why economic development across the South Asia region has diverged so significantly since the early 1990s.Providing a cutting-edge review of the economies of South Asia, the Handbook analyzes key growth areas as well as key structural weaknesses and policy challenges facing these economies. Furthermore, it anticipates trends and suggests corrective measures for the South Asian economic region. Sections focus on issues of human development, such as inequality, poverty and quality of schooling, and monetary and fiscal issues, particularly in light of the ongoing global financial crisis. Further sections discuss issues relating to employment and infrastructure, and on the experience of the region with international trade and financial flows, and environmental challenges. Written by renowned and respected experts on South Asian economics, this Handbook will be an invaluable reference work for students and academics as well as policy makers interested in South Asian Studies, Economics and Development Studies.

STATISTICAL METHODS
Lind, Douglas A.          
Basic statistics for business and economics / Douglas A. Lind, William G. Marchal, Samuel A. Wathen. Eighth editon.  New York, NY : McGraw-Hill/Irwin, c2013. HA 29 L75 2013

SUPPLY AND DEMAND
Economics for investment decision makers : micro, macro, and international economics / Christopher D. Piros, Jerald E. Pinto, [editors]. Hoboken, N.J. : Wiley, c2013. HB 171.5 E355 2013
The economics background investors need to interpret global economic news distilled to the essential elements: A tool of choice for investment decision-makers. Written by a distinguished academics and practitioners selected and guided by CFA Institute, the world's largest association of finance professionals, Economics for Investment Decision Makers is unique in presenting microeconomics and macroeconomics with relevance to investors and investment analysts constantly in mind.   The selection of fundamental topics is comprehensive, while coverage of topics such as international trade, foreign exchange markets, and currency exchange rate forecasting reflects global perspectives of pressing investor importance.

WATER RESOURCES DEVELOPMENT
Water issues in Southeast Asia : present trends and future directions / edited by Lee Poh Onn. Singapore : Institute of Southeast Asian Studies, c2013. HD 1698 S644 F67 2013
Water has been dubbed the "oil of the 21st century" because of its increasing global scarcity. In Southeast Asia, water resources have been strained by the greater demand from different sectors such as agriculture, industry and domestic users. This situation is only likely to worsen in the future if active measures are not taken now. Is there a standard framework that can be adopted to promote cooperation in the use of water among countries? Could clearer institutions in river basins provide the backdrop for a more effective water management strategy in Southeast Asia? Does private sector involvement or privatization resolve some of the "public good" woes of water management? How does a sense of security and ownership enhance sustainability measures in a country? How have civil groups been able to promote effective water management in a country? How have water shortages been overcome in a predominantly urban city state? How have water pollution problems been resolved? Is there a potential for water conflicts in the years to come? What are some of the issues involved in sustainable watershed management? This publication draws from regional and country studies of the Mekong Basin, Malaysia, Indonesia, Singapore, Thailand and the Philippines to understand the political and socio-economic dynamics involved in water management. It is a must read for anyone interested in water management issues in the region, understanding the past and present and also looking to future trends.