AGRICULTURE AND NATURAL RESOURCE ECONOMICS
Mendelsohn, Robert O. 
Climate change and agriculture : a economic analysis of global impacts, adaptation and distributional effects / Robert Mendelsohn and Ariel Dinar. Cheltenham, [England] : Edward Elgar, c2009. S 589.75 M46 2009
Despite its great importance, there are surprisingly few economic studies of the impact of climate on agriculture and how agriculture can adapt under a variety of conditions. This book examines 22 countries across four continents … (Continue reading at Amazon.com)
Sustainability science : a multidisciplinary approach / edited by Hiroshi Komiyama … [et al.] Tokyo : United Nations University Press, 2011. HC 79 E5 S86 2011
Sustainability science is a new academic discipline emerging in response to threatened sustainability of the global environment. The purpose of this discipline is to help build a sustainable society by developing… (Continue reading at Amazon.com)
Sustainable land management in the tropics : explaining the miracle / edited by Kees Burger and Fred Zaal. Farnham, Surrey, England : Ashgate, 2009. HD 156 S87 2009
Bringing together case studies from Kenya, Benin, Cameroon and the Philippines, this volume provides a multidisciplinary overview of the economics of natural resource management in Tropical regions, at household… (Continue reading at Amazon.com)
---
 

ARMED FORCES
Cohen, Stephen P. 
Arming without aiming : India's military modernization / Stephen P. Cohen and Sunil Dasgupta. Washington, D.C. : Brookings Institution Press, c2010. UA 840 C64 2010
India's growing affluence has led experts to predict a major rearmament effort. The second-most populous nation in the world is beginning to wield the economic power expected of such a behemoth. Its border with Pakistan is a tinderbox, the subcontinent… (Continue reading at Amazon.com)
---
 

ECONOMIC DEVELOPMENT
Endogenous regional development : perspectives, measurement and empirical investigation / edited by Robert Stimson, Roger R. Stough, Peter Nijkamp. Cheltenham, [England] : Edward Elgar, c2011.
HD 75 E53 2011
Increasingly, endogenous factors and processes are being emphasized as drivers in regional economic development and growth. This 15 chapter book is unique in that it commences by presenting five disciplinary takes on endogenous development… (Continue reading at Amazon.com)
---
ENVIRONMENTAL AND ECOLOGICAL ECONOMICS
Hanley, Nick 
Introduction to Environmental Economics / Nick Hanley, Jason F. Shogren, Ben White Edition. Oxford : OXFORD UNIVERSITY PRESS, c2013. HC 79 E5 H37 2013
Accessible to students with little or no background in the subject,Introduction to Environmental Economics, Second Edition, features an exceptionally clear writing style, a global approach, and wide-ranging theoretical coverage… (Continue reading at Amazon.com)
The Future of international environmental law / edited by David Leary and Balakrishna Pisupati. Tokyo : United Nations University, c2010. K 3585 F88 2010
This book explores the future of international environmental law in a world of ever worsening environmental crises. It examines the success stories and failures of international environmental law and argues that future responses to global environmental crises… (Continue Reading at Amazon.com)
Nagtzaam, Gerry>The making of international environmental treaties : neoliberal and constructivist  analyses of normative evolution / Gerry Nagtzaam ; [foreword by Robyn Eckersley]. Cheltenham, UK : Edward Elgar, c2009. K 3585 N34 2009
In this fascinating book, Gerry Nagtzaam questions why some regimes seek to preserve and protect some parts of nature from development, some seek to wisely manage certain parts of nature for development, whilst others allow the reckless exploitation…(Continue reading at Amazon.com)
---
FINANCIAL ECONOMICS
The Impact of health insurance in low- and middle-income countries / edited by Maria-Luisa Escobar, Charles C. Griffin, and R. Paul Shaw.  Washington, D.C. : Brookings Institution Press, c2010.
HG 9399 D44 I47 2010
Over the past twenty years, many low- and middle-income countries have experimented with health insurance options. While their plans have varied widely in scale and ambition, their goals are the same: to make health services more affordable through…(Continue reading at Amazon.com)
---
GENERAL ECONOMICS AND TEACHING
Basu, Kaushik
Beyond the invisible hand : groundwork for a new economics / Kaushik Basu. Princeton, N. J. : Princeton University Press, c2011. HB 71 B38 2011
One of the central tenets of mainstream economics is Adam Smith's proposition that, given certain conditions, self-interested behavior by individuals leads them to the social good, almost as if orchestrated by an invisible hand. This deep insight has, over the past…(Continue reading at Amazon.com)

   Colander, David C.
The lost art of economics : economics and the economics profession / David Colander. Cheltenham, [England] : E.            Elgar Pub., 2001. HB 74.5 C64 2001
 A collection of essays by economist David Colander, exploring the lost art of economics. He is wholly familiar with the  techniques employed by economists, but finds them wanting in realism and imagination. At the same…                             (Continue reading at Amazon.com)

  Quiggin, John
Zombie economics : how dead ideas still walk among us / John Quiggin. Princeton : Princeton University Press, c2010. HB 87 Q85 2010
In the graveyard of economic ideology, dead ideas still stalk the land.
The recent financial crisis laid bare many of the assumptions behind market liberalism–the theory that market-based solutions are always best, regardless of the problem. For decades, their advocates dominated mainstream economics, and their influence…  (Continue reading at Amazon.com)
---
HEALTH, EDUCATION AND WELFARE
Lee, Grace O. M.
The political economy of the SARS epidemic : the impact on human resources in East Asia / Grace O.M. Lee and Malcolm Warner. London : Routledge, 2008. RA 644 S17 L44 2008
This book discusses the political economy of the SARS epidemic and its impact on human resources in East Asia, as it occurred in 2003. The epidemic spread from the People's Republic of China, to Hong Kong, Singapore and Taiwan, amongst other… (Continue reading at Amazon.com)
Morris, Stephen 
Economic analysis in health care / Stephen Morris, Nancy Devlin, David Parkin, Anne Spencer. Chichester, England : J. Wiley & Sons, c2012. RA 394 M67 2012
Economic Analysis in Health Care, Second Edition is intended as a core textbook for advanced undergraduate and postgraduate students of health economics. The authors provide comprehensive coverage of the field of economics in health care and the evaluation of health care technologies. (Continue Reading at Amazon.com)
Santerre, Rexford E.
Health economics : theories, insights, and industry studies / Rexford E. Santerre, Stephen P. Neun. Australia : South-Western Cengage Learning, c2013. RA 410 S27 2013
Now available in a revised edition, Health Economics, Theories, Insights, and Industry Studies features a lively coverage of economic theory and its application to the many sectors of health care. Its comprehensive and fundamental approach is timely and challenging. Whether students have minimal or extensive backgrounds in economics, Health Economics is a sound choice for instilling the economist's view of the health sector.
---
HISTORY OF ECONOMIC THOUGHT
Barber, William J.
Gunnar Myrdal : an intellectual biography / William J. Barber. Basingstoke : Palgrave Macmillan, 2008. HB 116.5 M9 B37 2008\
Over the course of an extended career, Gunnar Myrdal – a Nobel Memorial Prize Laureate in Economics in 1974 – made brilliantly original contributions to monetary theory and policy and to the methodology of economics and social science. This study examines the manner in which his intellectual style left an impact on the shaping of Sweden's welfare state, on race relations in the United States, on post-World War Two economic cooperation in Europe, and on the analysis of Third World economic development.
    The Elgar companion to Hyman Minsky / edited by Dimitri B. Papadimitriou and L. Randall Wray. Cheltenham,                    [England] : Edward Elgar, c2010. HB 119 M48 E44 2010
This book provides a timely and engaging treatment of Hyman Minsky's approach to economics, which is enjoying a renewed appreciation because of its prescient analysis of the slow but sure transformation of the capitalist economy in the post-war period. (Continue reading at Amazon.com)
---
INDUSTRIAL ORGANIZATION
Handbook of trust research / edited by Reinhard Bachmann, Akbar Zaheer. Cheltenham,  [England] : Edward Elgar, c2006. HD 58.7 H357 2006
In recent times, research on trust has become a major field in the domain of management and in the social sciences as a whole. (Continue reading at Amazon.com)
The Handbook of organizational economics / edited by Robert Gibbons and John Roberts. Princeton : Princeton University Press, c2013. HD 2326 H36 2013
In even the most market-oriented economies, most economic transactions occur not in markets but inside managed organizations, particularly business firms. Organizational economics seeks to understand the nature and workings of such organizations and their impact… (Continue reading at Amazon.com)
Watson, John
SME performance : separating myth from reality / John Watson. Cheltenham, [England] : Edward Elgar, c2010. HD 2341 W38 2010
Watson addresses some of the most pervasive myths related to small business performance in an engaging manner, capturing the nuances of these important issues. (Continue reading at Amazon.com)
---
INDUSTRIAL PROMOTION
Blakely, Edward J.
Planning local economic development : theory and practice / Nancey Green Leigh, Georgia Institute of Technology, Edward J. Blakey, The University of Sydney. Los Angeles : SAGE, c2013. HC 110 I53 /B56 2013
Since the appearance of the first edition in 1990, Planning Local Economic Development has been the foundation for an entire generation of practitioners and academics…(Continue reading at Amazon.com)
---
INDUSTRY STUDIES: MANUFACTURING
Muris, Timothy J.
Strategy, structure, and antitrust in the carbonated soft-drink industry / Timothy J. Muris, David T. Scheffman, and Pablo T. Spiller. Westport, Conn. : Quorum Books, c1993. HD 9349 S633 U55 1993
Pepsi-Cola and Coca-Cola are widely recognized as being two of the premier marketing companies in the world. They have introduced a great variety of new products and package types. (Continue reading at Amazon.com)
---
 

INTERNATIONAL ECONOMICS
Delivering aid differently : lessons from the field / Wolfgang Fengler and Homi Kharas, editors. Washington, D.C. : Brookings Institution Press, c2010. HC 60 D45 2010
Delivering Aid Differently provides a valuable overview of aid programs today, focusing on what works and what still needs improvement.
---
LAW AND ECONOMICS
Contract law and economics / edited by Gerrit De Geest. Cheltenham, [England] : Edward  Elgar, c2011. K 487 E3 E53 2011 v.6
This unique and timely book offers an up-to-date, clear and comprehensive review of the economic literature on contract law. (Continue reading at Amazon.com)
---
 

MACROECONOMICS AND MONETARY ECONOMICS
Financing the 2008 election : assessing reform / David B. Magleby and Anthony Corrado, editors. Washington, D.C. : Brookings Institution Press, c2011. JK 1991 F56 2011
The 2008 elections were by any standard historic. The nation elected its first African American president, and the Republicans nominated their first female candidate for vice president. More money was raised and spent on federal contests… (Continue reading at Amazon.com)
 Mulhearn, Chris
The euro : its origins, development and prospects / Chris Mulhearn and Howard R. Vane. Cheltenham, [England] : Edward Elgar, c2008. HG 925 M85 2008
This important new book provides a non-technical, comprehensive overview of the central issues surrounding the euro. Following an introduction to the origins of European integration, the authors proceed to examine the first concrete…(Continue reading at Amazon.com)
Allen, Franklin
Understanding financial crises / Franklin Allen, Douglas Gale. Oxford : Oxford University Press, 2007. HB 3722 A44 2007
What causes a financial crisis? Can financial crises be anticipated or even avoided? What can be done to lessen their impact? Should governments and international institutions intervene? Or should financial crises be left to run their course? In the aftermath of the recent… (Continue reading at Amazon.com)
---
MATHEMATICAL AND QUALITATIVE METHODS
  Acock, Alan C.
A gentle introduction to stata / Alan C. Acock. College Station, Tex. : Stata Press, 2010. HA 32 A26 2010
Updated to reflect the new features of Stata 11,A Gentle Introduction to Stata, Third Edition continues to help new Stata users become proficient in Stata. After reading this introductory text, you will be able to enter, build, and manage a data set as well as perform fundamental statistical analyses. (Continue reading at Amazon.com)
Econometric modeling of China / editors, Lawrence R. Klein, Shinichi Ichimura. Singapore : World Scientific, c2000. HC 427.92 E24 2000
This study offers seven econometric models of the Chinese economy with the statistical data used, so that the reader should be able to reproduce them all and test them for any policy alternatives. The models presented are up-to-date at time of publication and have been produced both inside and outside China. The book should be useful as a reference for graduate students and scholars working on Chinese economic problems.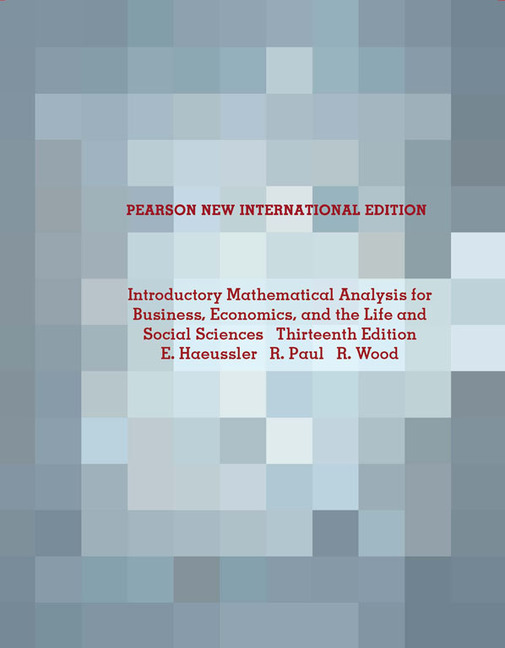 Haeussler, Ernest F.
Introductory mathematical analysis for business economics, and the life and social sciences / Ernest F. Haeussler, Jr., Richard S. Paul, Richard J. Wood. Harlow, Essex, England : Pearson Education, c2014. QA 300 H34 2014
This book is ideal for one- or two-semester or two- or three-quarter courses covering topics in college algebra, finite mathematics, and calculus for students in business, economics, and the life and social sciences. (Continue reading at Amazon.com)
Post Keynesian econometrics, microeconomics and the theory of the firm : beyond Keynes, volume 1 / edited by Sheila C. Dow and John Hillard. Cheltenham, [England] : E. Elgar, c2002. HB 139 P67 2002
This is the first of two volumes celebrating Keynes' contribution to economics and the development of post-Keynesian economics in recent years. The book is divided into three sections, the first of which examines general… (Continue reading at Amazon.com)
Rubin, Donald B. 
Matched sampling for causal effects / Donald B. Rubin. Cambridge : Cambridge University Press, c2006. HA 31.2 R81 2006
Matched sampling is often used to help assess the causal effect of some exposure or intervention, typically when randomized experiments are not available or cannot be conducted. This book presents a selection of Donald B. Rubin's research… (Continue reading at Amazon.com)
Werner, Frank 
Mathematics of economics and business / Frank Werner, Yuri N. Sotskov. London : Routledge, 2006. HB 135 W47 2006
For all students who wish to understand current economic and business literature, knowledge of mathematical methods has become a prerequisite. Clear and concise, with precise definitions and theorems, Werner and Sotskov… (Continue reading at Amazon.com)
---
 

MICROECONOMICS
Moving forward : the future of consumer credit and mortgage finance / Nicolas P. Retsinas and Eric S. Belsky, editors. Cambridge, Mass. : Joint Center for Housing Studies, Harvard University, c2011.
HG 3756 U54 M68 2011
The recent collapse of the mortgage market revealed fractures in the credit market that have deep roots in the system's structure, conduct, and regulation. The time has come for a clear-eyed assessment of what happened and how the system should be strengthened and restructured. Such reform will have a profound and lasting impact on the capacity of Americans to use credit to build assets and finance consumption. (Continue reading at Amazon.com)
---
PUBLIC ECONOMICS
Tax reform in open economies : international and country perspectives / Edited by Iris Claus …[et al.]. Cheltenham, [England] : Edward Elgar, c2010. HJ 2305 T383 2010
This book brings together research from some of the world's leading tax economists to discuss appropriate directions for tax reform in small open economies. (Continue reading at Amazon.com)
---
 

TECHNOLOGICAL CHANGE
Acs, Zoltan J. 
Innovation and the growth of cities / Zoltan J. Acs.  Cheltenham, [England] : Edward Elgar, c2002. HC 79 T4 A27 2002
This new and original book by Zoltan Acs explores the relationship between industrial innovation and economic growth at the regional level and reaches conclusions as to why some regions grow and others decline. While the analysis draws on industrial organization, labour economics, regional science, geography and entrepreneurship, the book focuses on innovation and the growth of cities by the use of endogenous growth theory.
O'Brien, James A.
Management information systems / James A. O'Brien, George M. Marakas. New York : McGraw-Hill/Irwin, c2011. T 58.6 O24 2011
The benchmark text for the syllabus organised by technology (a week on databases, a week on networks, a week on systems development, etc.) taught from a managerial perspective. O'Brien defines technology and then explains how companies use the technology to improve performance. Real world cases finalize the explanation.
---
URBAN ECONOMICS
McCann, Philip 
Modern urban and regional economics / Philip McCann. Oxford : Oxford University Press, c2013. HT 321 M33 2013
Modern Urban and Regional Economics, Second Edition, explains the spatial economic foundations of the behavior of urban and regional economies, highlighting the differences between the two types of economy. (Continue reading at Amazon.com)